Elementary STEM Elective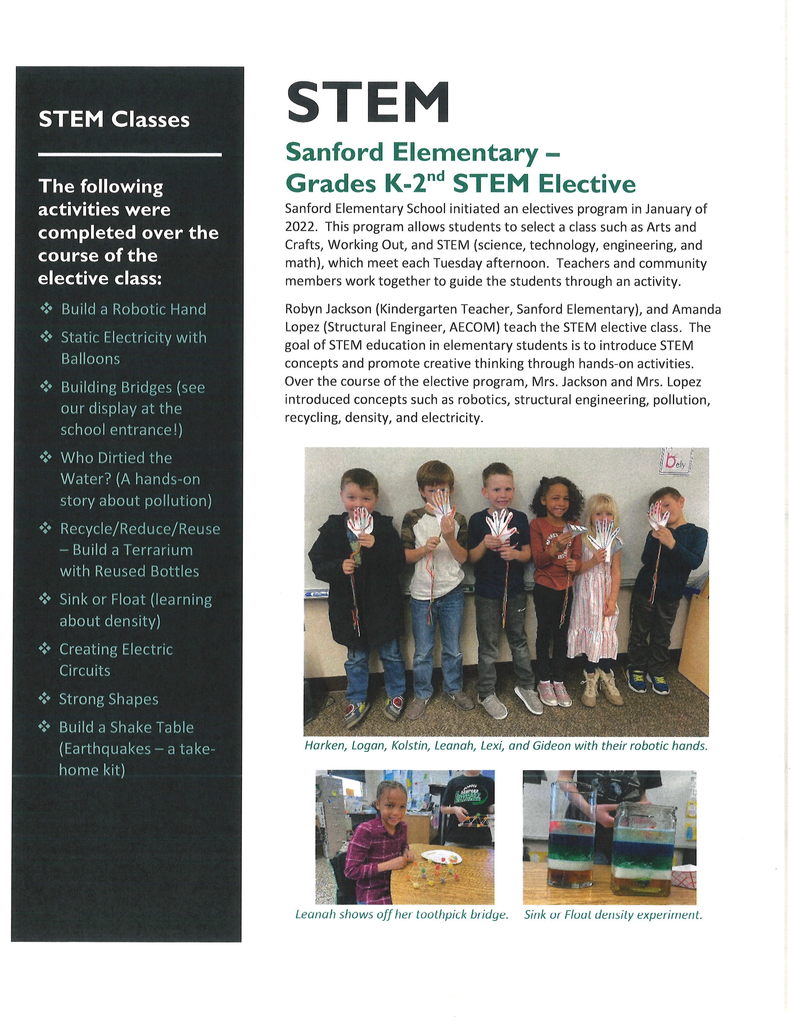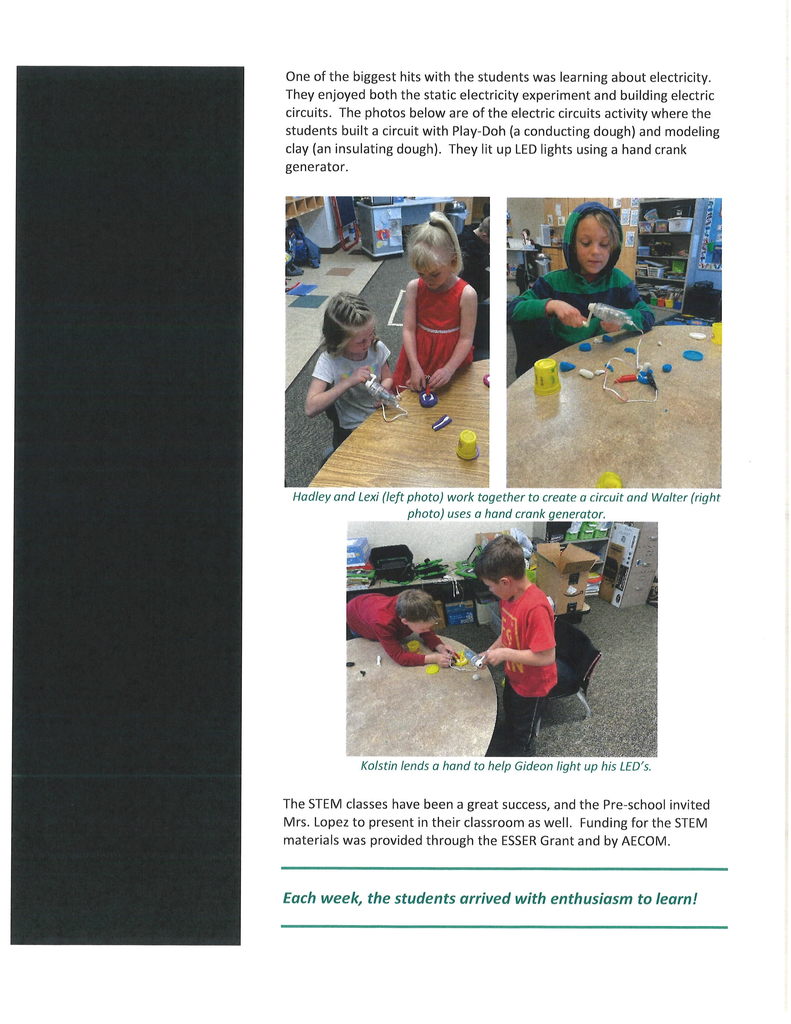 Lil' Mustang Round-up Preschool and Kindergarten Registration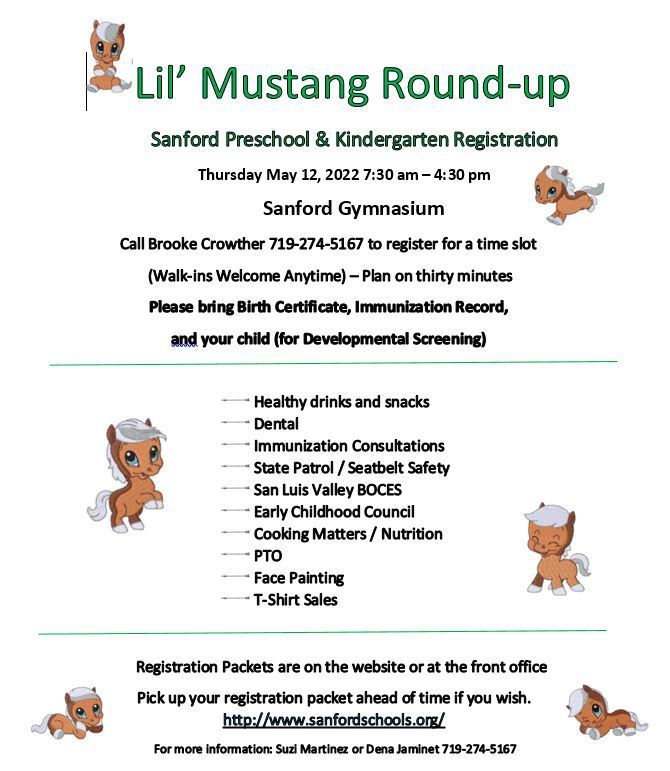 Community Clean-up The elementary students will be participating in a community clean-up tomorrow (Wednesday) from 8-9 am. Please have your child wear closed-toe shoes and older clothes as they may get dirty. The school will provide gloves and trash bags.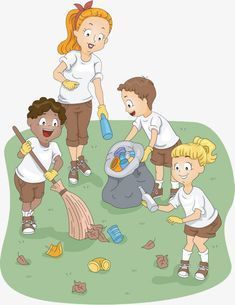 Bake Sale Tomorrow! The 6th graders are selling baked goods to support their "Night at the Museum." Each year 6th graders from across the state get to experience the Denver Museum of Nature and Science with an overnight trip. All items will be $1.00. Please consider helping the students out by purchasing a baked good.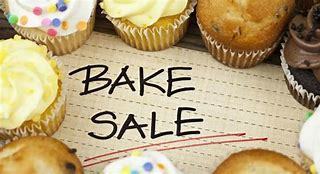 REMINDER!!! Class and individual pictures are TOMORROW April 25th. Parents will be sent a link to view and order pictures once they are taken.
Spring Sports/ Class Pictures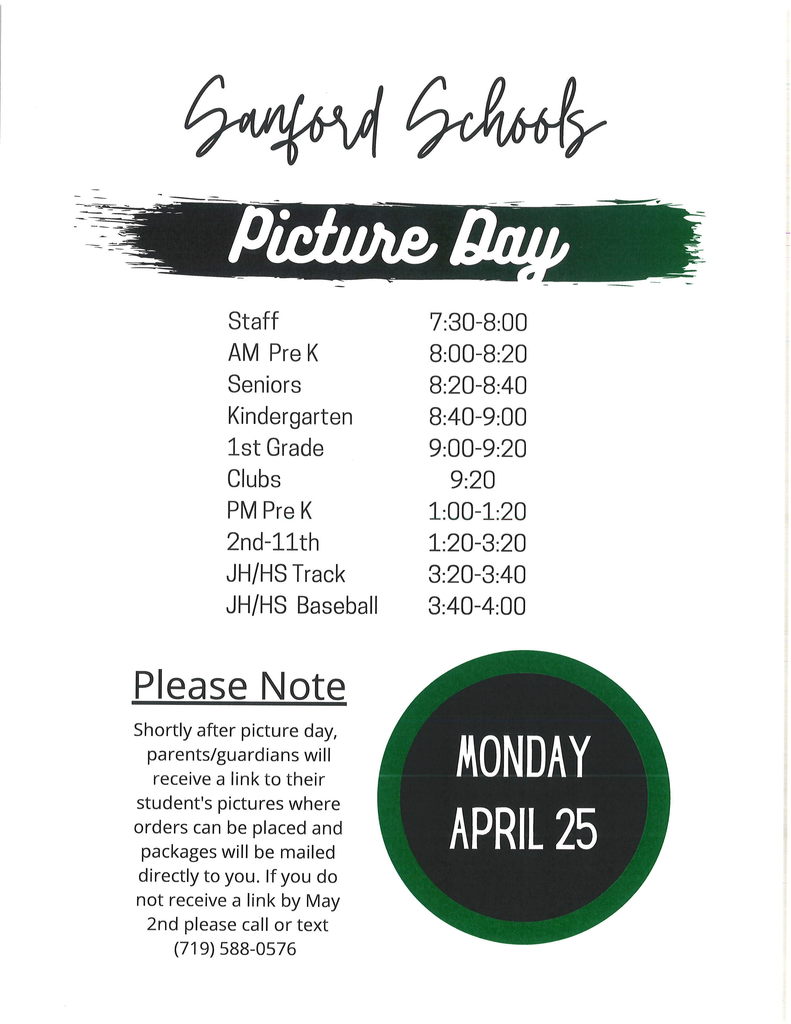 The Sanford Elementary is in need of a chocolate fountain. Does anyone in the community have one they would be willing to let us borrow? Thank you. Dena Jaminet 719-274-5167 719-298-8786
SANFORD FANS: For tonight's championship games we need to sit on the side opposite of the team benches, both spectators and rowdy crowd. Come loud and come proud! Here we go BIG GREEN here we go!
The games tonight will only be broadcasted on NFHS Network. GO BIG GREEN!
WE READY! YA'LL READY! Girls- 5:00 pm Sanford vs Crested Butte Boys- 6:30 pm Sanford vs Trinidad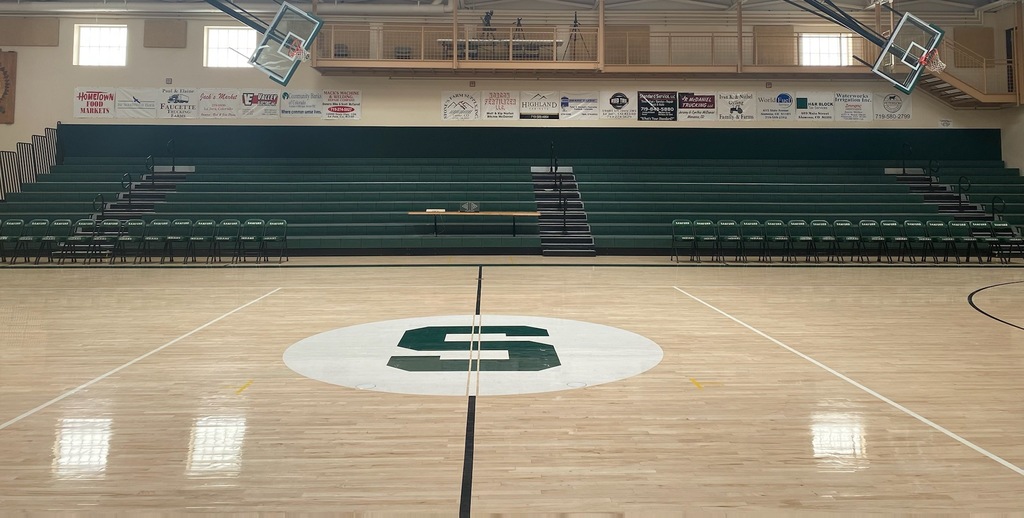 Its playoff time! Here is the information for the district tournament. There are play-in games tonight so we will not know who we play until after tonight's games. Tomorrow's games will be here. Thursday, and Saturday's games will be played at Adams State College (ASU). ASU is required masks. They are also going to provide a day car in the field house. Here we go Big Green here we go!!! Quarter Finals • Tuesday Feb. 22 Girls 5:00 pm, Boys 6:30pm @ Sanford High School Semifinals • Thursday Feb. 24 Girls 3:00 pm, Boys 4:30pm @ ASU Championship • Saturday Feb. 26 @ ASU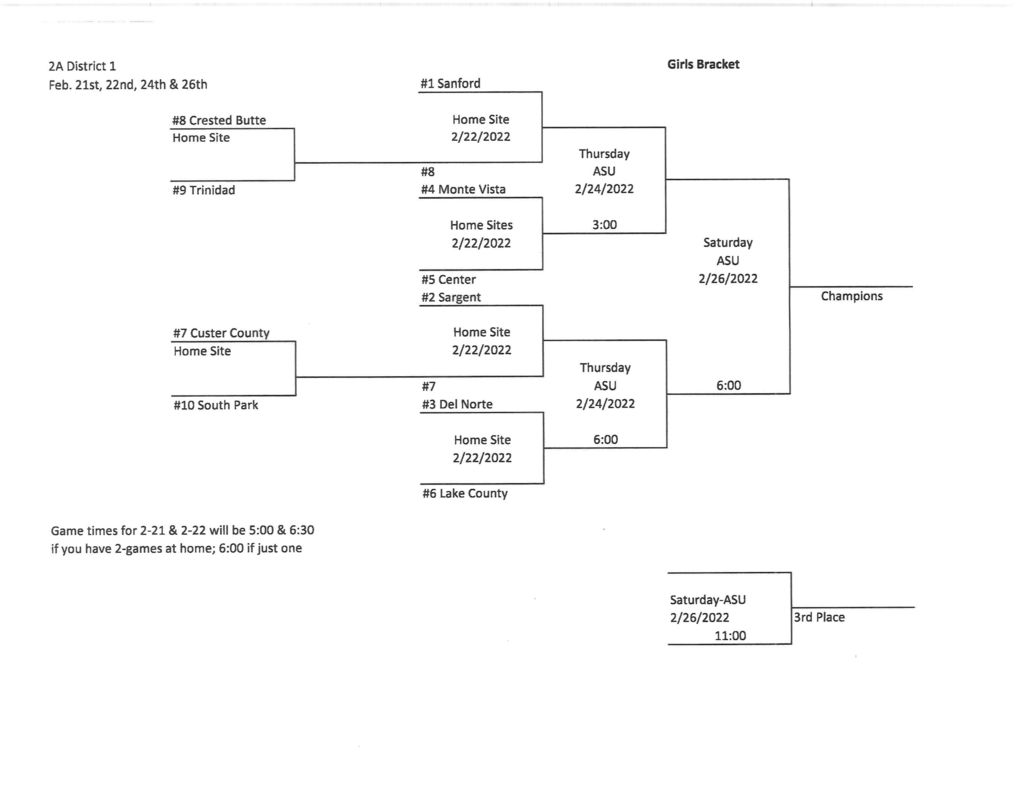 Random Acts of Kindness and FBLA week Februray 14-17!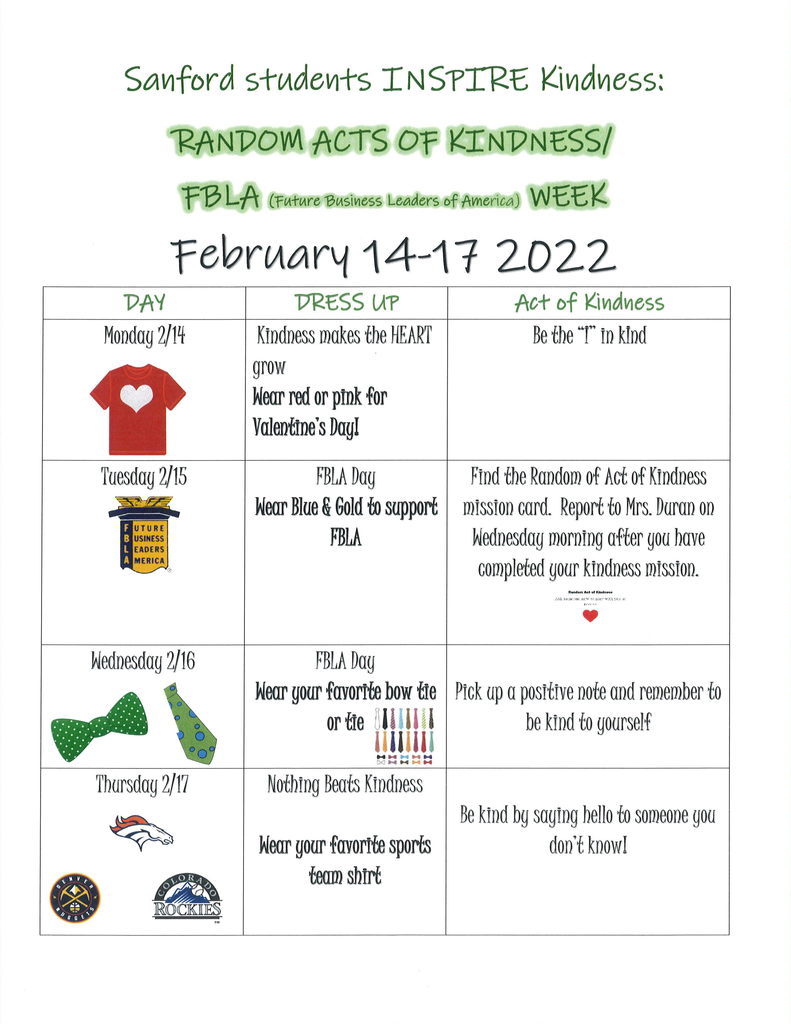 Due to inclement weather and poor road conditions, Sanford School District will be on a two-hour delay. Buses will run normal routes two hours later than the usual time.

The District COVID Taskforce met to discuss the increasing rate of COVID in our school and community. We feel it is very important to the education of students that we continue with in-person learning on Monday, January 24. However, to decrease the spread of COVID in the school we are requesting that students and staff wear a mask in classrooms and hallways until this COVID surge subsides. This is not a mandate, rather a request. We encourage parents to keep students home, through the quarantine period, if they have been exposed or are not feeling well. Once again, the wearing of masks is temporary until COVID rates begin to decrease in the school and community. Thank you for your assistance in keeping our students in school. ​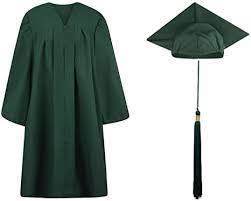 1-17-2022 Dear Sanford School Community: Due to several positive COVID cases within our school, we will be moving to remote learning for the rest of the week beginning tomorrow January 18. Although we will allow athletes to continue to practice, we highly recommend not sending them to practice if they are experiencing any symptoms to assist in keeping the teams healthy. The basketball game with Centauri is canceled but will be rescheduled in the coming weeks. This is due to the high number of students and families with COVID in our communities. More information on other scheduled events will be released after we visit with those schools. The school will return to in-person learning beginning Monday, January 24, 2022. We would encourage parents to keep students who are sick or exposed away from others outside their immediate family as we are finding this variant is very contagious. Thank you for your understanding and assistance. Sincerely, Kevin Edgar Superintendent

JV Boys game is canceled today. Girls Varsity will begin at 4:30 pm followed by Varsity Boys. GO BIG GREEN!

Attention Sanford Juniors and parents. Students in the 11th Grade will be taking the Colorado School day SAT on April 13, 2022. The Colorado Department of Education will cover all fees so students can take the SAT with Essay during the school day test. If students are interested in taking the essay portion please sign up with Mrs. Duran before February 15th.

Due to continued power outages Sanford School District will not be in session today.