We will be streaming the Football game this Friday, November 6th at 6:00pm on our Sanford Schools Facebook page. GO BIG GREEN!

Upward Bound is recruiting Sanford High School Students! If you are interested in learning more about this amazing Pre-Collegiate opportunity please sign up for one of their online open house events held on Nov. 5th and 9th @6:30. You can also learn more about Upward Bound by checking out their video here
https://youtu.be/PNzv52S9z4M
. Please let Mrs. Duran know if you would like an application or more information.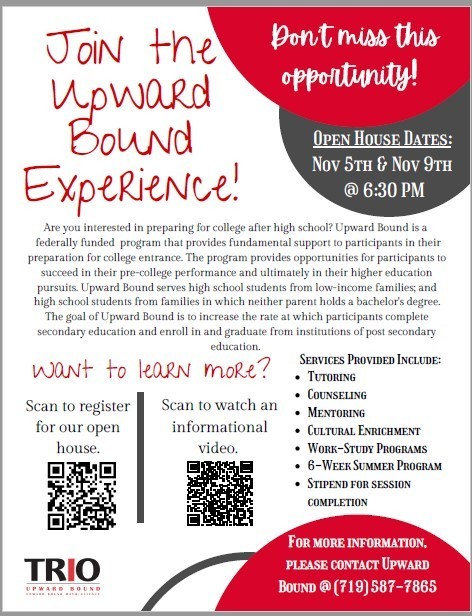 Sanford vs Sargent Football game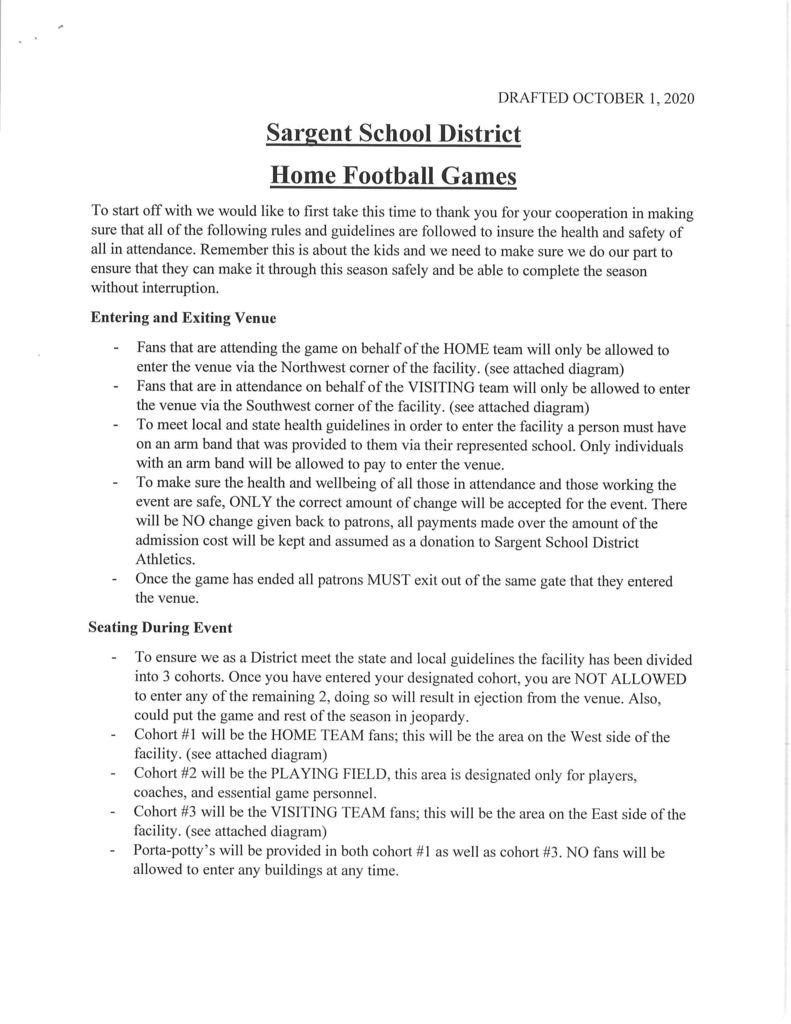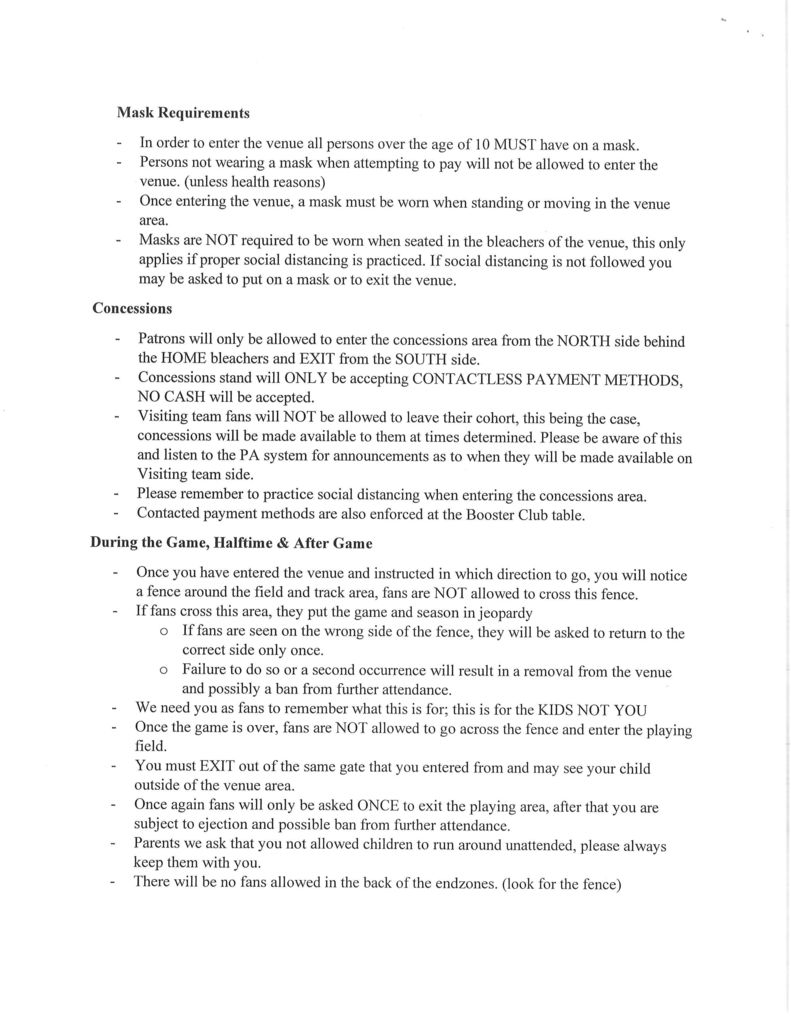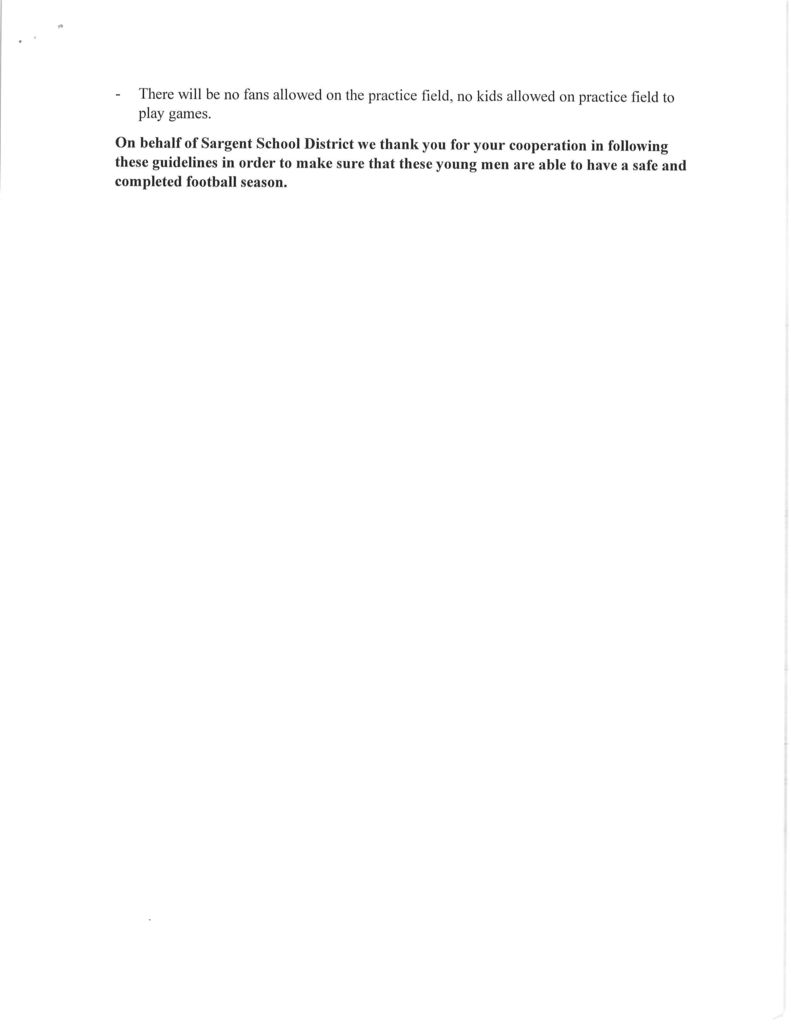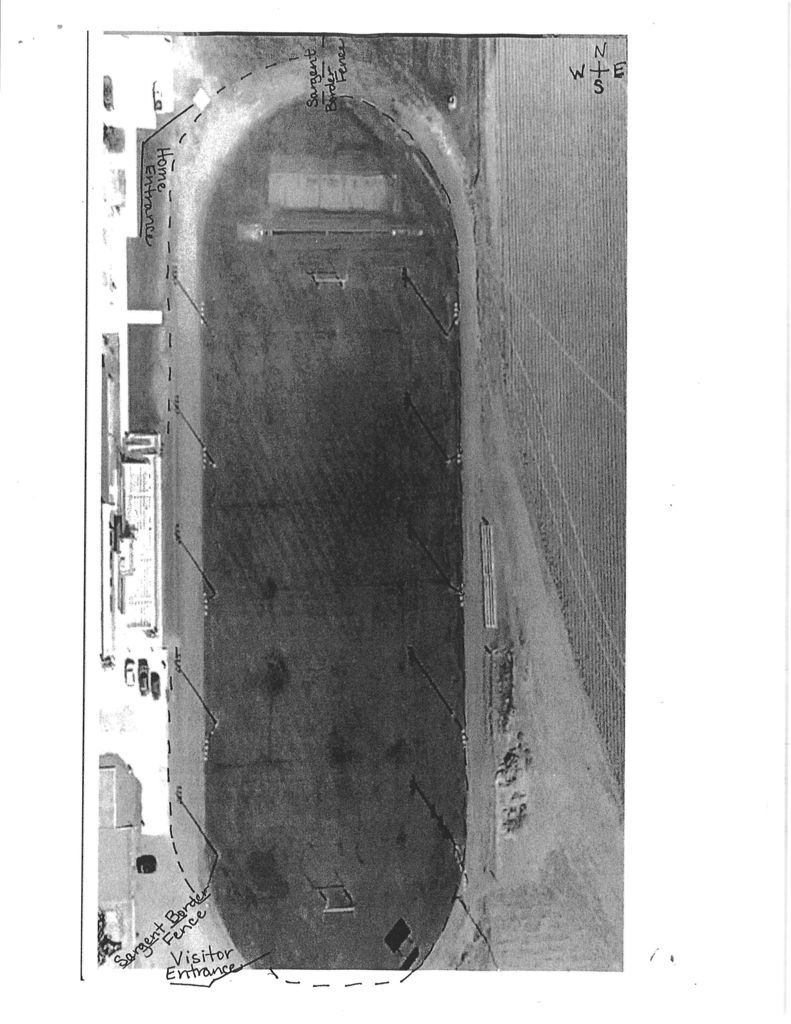 "Donut" forget TOMORROW is Preschool Count Day! Unless your child is not feeling well, please make sure they attend school tomorrow (11/2/20). It is very important that the kiddos come to school on count day. Each preschool student that comes to school tomorrow will receive a donut.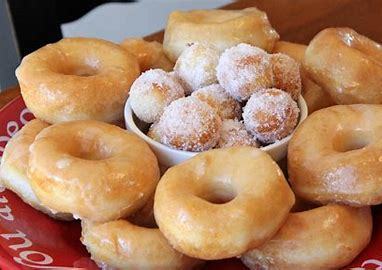 Sanford Schools: Due to the anticipation of continued snowfall throughout the day and to keep students safe, today will be a remote instruction day. All students are to receive instruction through Google Classroom. In-person learning will continue tomorrow. Have a good day and stay safe.

All Sanford School students will receive free breakfast and lunch for the remainder of the school year. Parents, if you deposited money into your child's lunch account you now have two choices. Either you can leave the money in the account and it will be transferred into next year's lunch account, or you may request a refund for this year's lunch account money. Sanford school is very pleased to provide a healthy breakfast and lunch to all students free of charge for the remainder of the school year.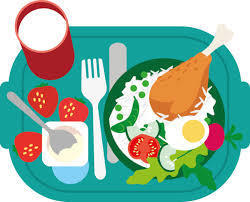 Football game information for Friday's game in Norwood. They are giving us 50 tickets, and want us to collect the money here. Each player will get two tickets. If you are not planning on attending or might need extra tickets you can trade amongst yourselves. You will need to pay for your tickets by Thursday at 12:00pm. Once you pay you can get a wrist band that will get you into the game. Tickets will not be sold at the game. Tickets are $5.00. Thank you!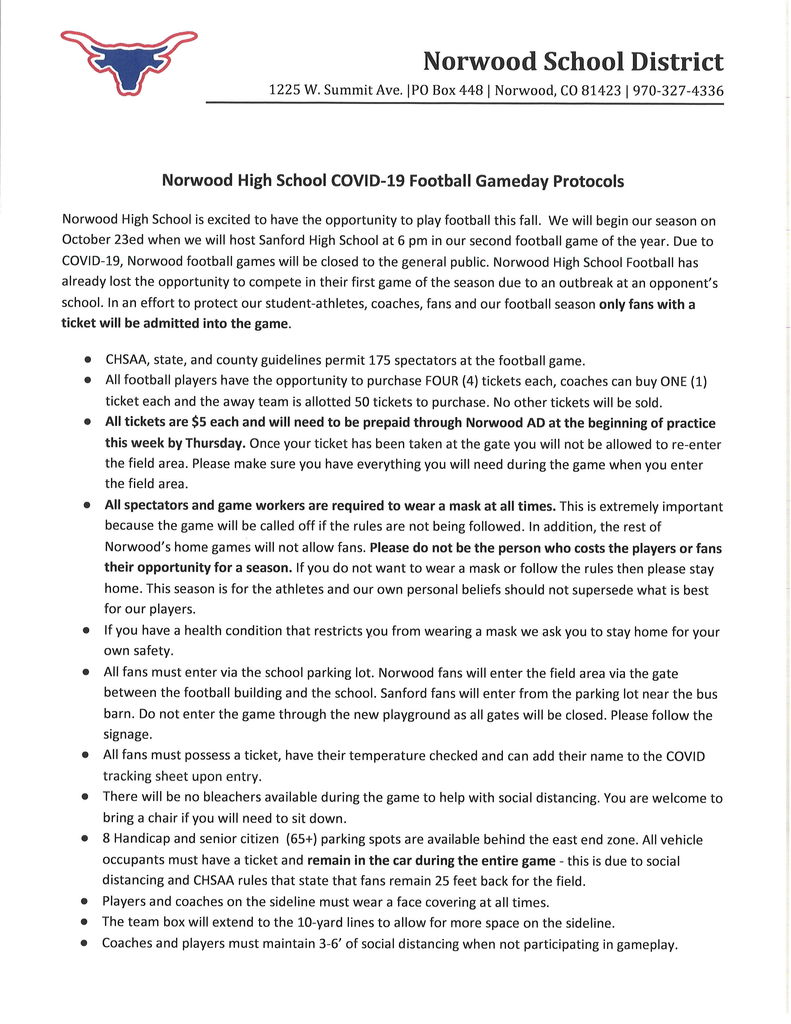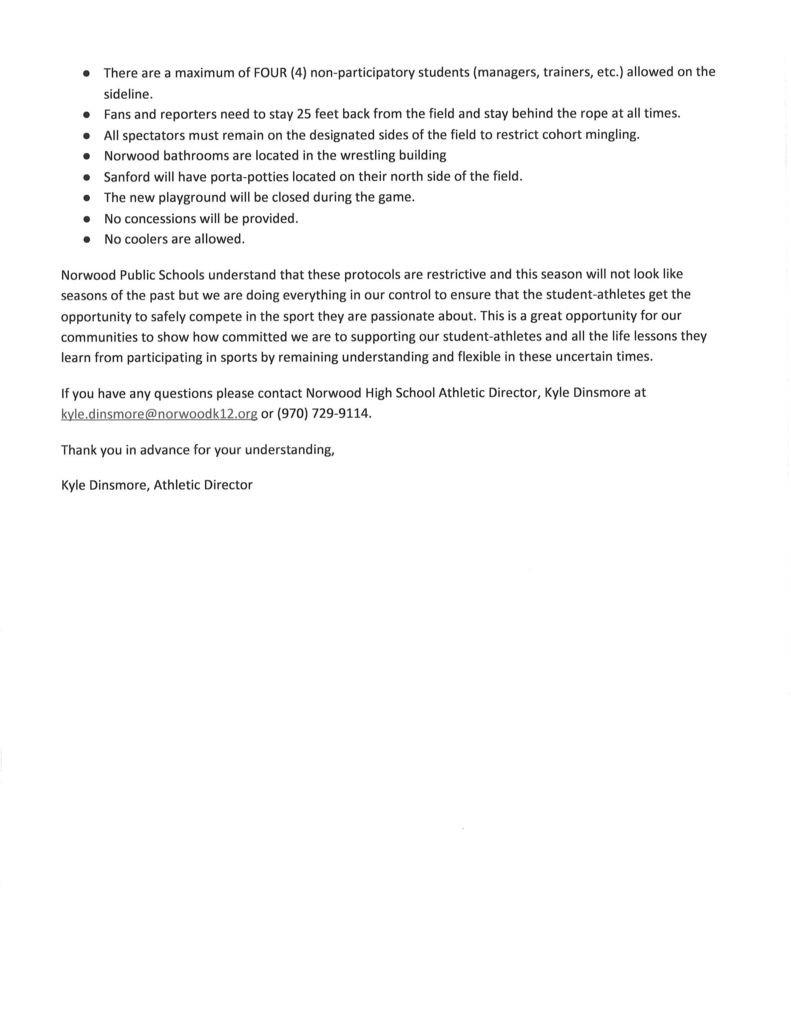 Game Expectations and Procedures for the football game.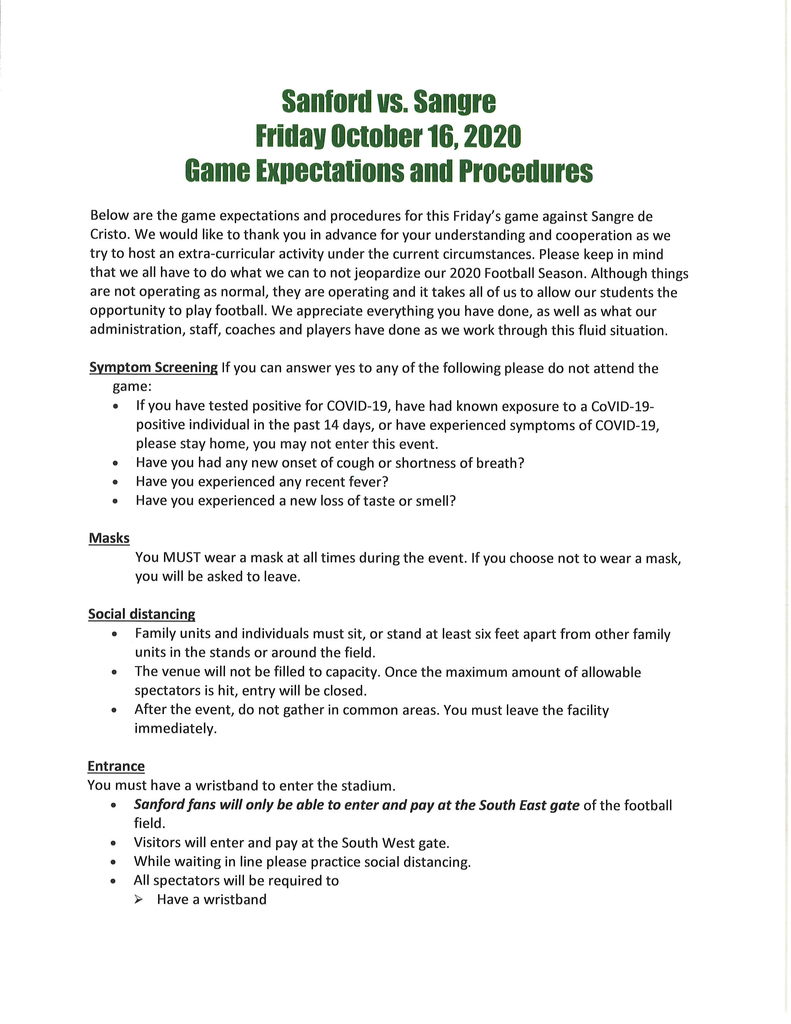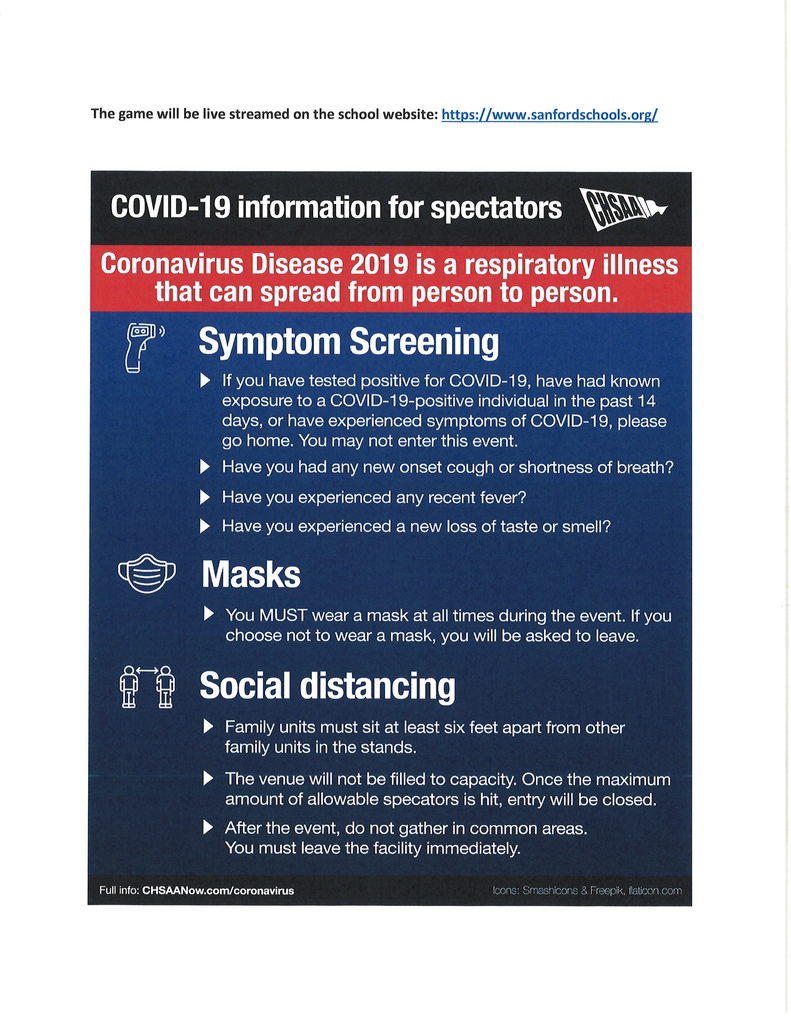 Please check the news feed for an update that will hopefully answer some questions about the 4-6th grade remote learning.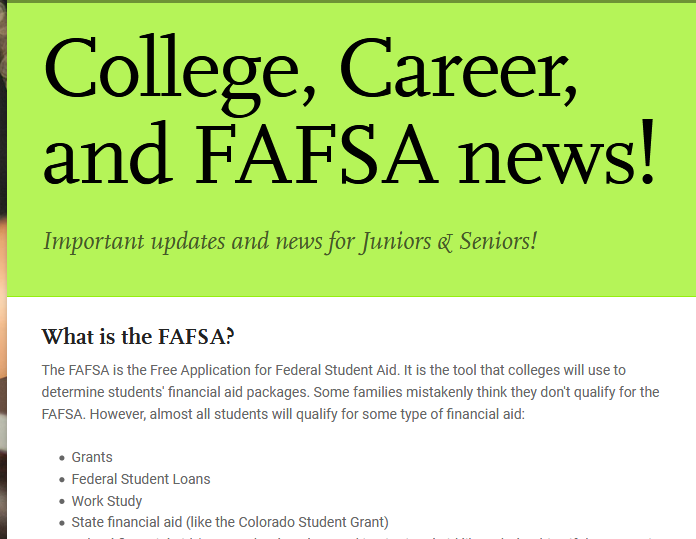 Apparently there is some confusion about school on Monday September 28, 2020. I hope I can clear up the confusion. NO Preschool. Kindergarten - 6th Grade will continue as usual with school starting at 8:00 am and concluding at 4:00 pm. The buses will run on their regular schedule. Seventh - Twelveth graders (7-12) will utilize the remote learning platform. Each student will log on to their first hour google classroom. Teachers will provide a link to the zoom meeting where class will be held. At the end of the hour, they will log on to their next hour google classroom. The day will continue in this format.

The Elementary will continue with classes on Monday. The COVID exposure does not have an impact on students in Kindergarten through 6th grade at this time. We hope to only quarantine the cohorts that are directly affected. The busses will continue to run on the regular schedule.
This is a reminder students will have picture day tomorrow Wednesday, September 16th. All viewing and ordering of pictures will be done online through a link you receive via text message and/or email after your students' photos are taken. The link may end up in your spam folder so please check there for emails from The Photo Company. Thank you!
Due to the weather and poor road conditions, Sanford schools will be CANCELLED today September 9, 2020. Please be careful and safe.
Sanford school will be on a 2 hour delay tomorrow Wednesday, September 9th with the possibility of cancellation. There will be more information early tomorrow morning. Thank you

Welcome to Sanford for Preschool and Kindergarten August 19th 9:30am - 6:30pm August 20th 9:00am - 4:00pm We would like to welcome our little Indians to Sanford School by allowing parents and students to come meet the teacher, visit the class, drop off supplies and receive information about your child's education at Sanford. Please call the front office at 719-274-5167 to set up an appointment. The Little Indians will receive a t-shirt and parents will have the opportunity to purchase a shirt for $10.00. Don't forget to bring your child's supplies and wear a mask. We can't wait to meet you and your children.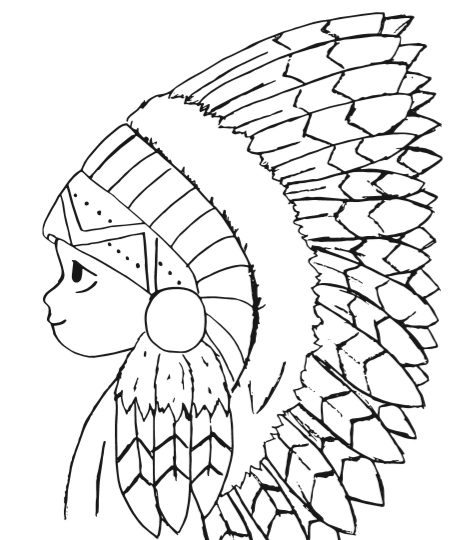 Reminder: Juniors or Seniors interested in taking concurrent college courses! There will be a short concurrent meeting to hand out ASU and TSJC concurrent paperwork. When: Thursday August 13th Juniors- 9:00-9:45 Seniors- 10:00-10:45 Where: Library Some information you will need in order to complete your application is: Your Social Security Number Your parent's or guardian's driver license number and date of issue The date of issue of your parent's or guardian's vehicle license plate The month and year your parent or guardian began living in Colorado If you are interested in taking college courses but can not meeting tomorrow please email Mrs. Duran @
kduran@sanfordschools.org
to set up a time. Concurrent paperwork needs to be returned by Monday 8/17.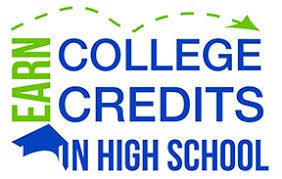 ​I am pleased by the thought of reuniting the tribe for another outstanding school year! With that being said, there are some questions parents may have about what our plans for returning look like. I invite any parent, guardian, student, or community member to call me with any questions about our plans, as well as to discuss the options that are available to you this year. We are planning for both the safe return to in-person instruction, as well as providing for a new remote learning option for students wishing to remain at home. I am happy to answer any questions you may have, as well as offer my assistance in getting you the information you need to make the best choices for your child's education. I can be reached at the school (719) 274-5167, or by email at
djudd@sanfordschools.org
. I look forward to working with you to provide your child with the best educational experience possible.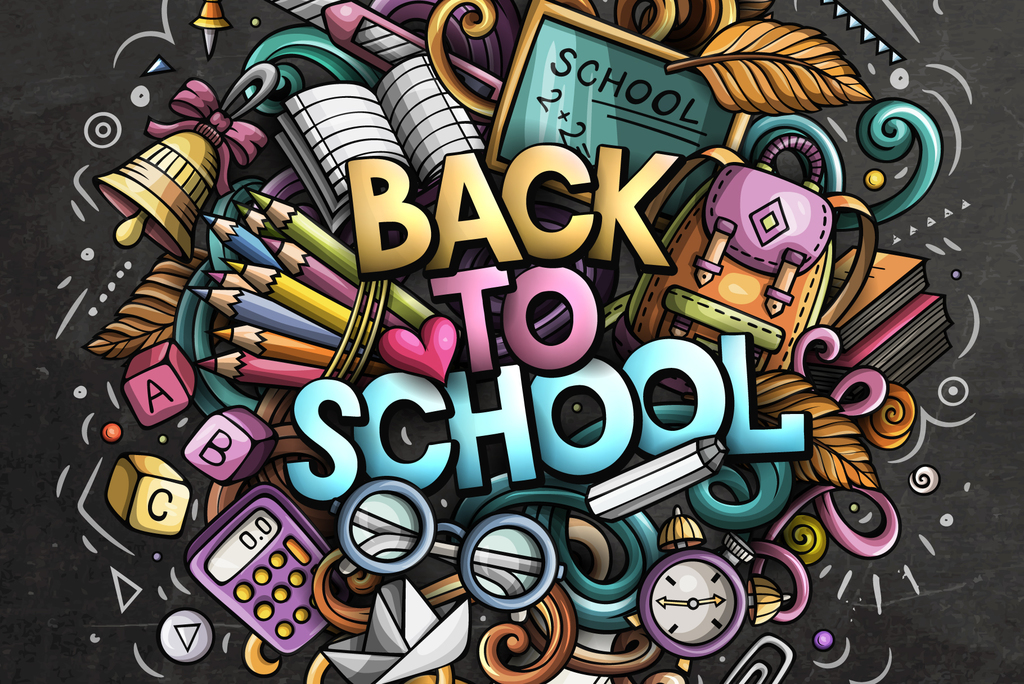 Attention Sanford High School Juniors and Seniors: If you are interested in taking Concurrent College Courses we will be meeting on Thursday 8/13 to complete paperwork and online applications. Thursday August 13th Juniors- 9:00-9:45 Seniors- 10:00-10:45 If you are unable to attend on Thursday you can print the paper work from our website
https://www.sanfordschools.org/o/district/page/concurrent-information
and set up a time to return to Mrs. Duran. Please contact Mrs. Duran if you have questions or would like to meet at another time. Juniors- will be taking courses through ASU and will need need to complete the Adams State University concurrent enrollment form and the Sanford HS Concurrent Letter to Parents. Seniors- will be taking courses through TSJC and will need to complete the TSJC concurrent enrollment agreement form, the Sanford HS Concurrent Letter to Parents, and complete the TSJC application online. Please feel free to email Mrs. Duran with any questions,
kduran@sanfordschools.org
.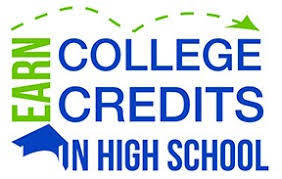 Sanford Graduation Graduates of Sanford, parents, and community: Sanford Schools would like to put out a formal address to make all aware of the graduation ceremony on Friday, June 5th at the Sanford Baseball field. Graduates and parents will be allowed on the baseball field in assigned parking. Parents and graduates please be on the field by 5:30 p.m. Community members will be allowed to park outside the baseball field to watch graduation. Please be courteous of others and park in a respectful manner. Please stay in your vehicle at all time. If community members would like to watch graduation from the comfort of their own homes, it will be streamed live on the school's Facebook page. Following graduation, we will have a parade of graduates down Main Street. If you would like to attend, please be parked down Main Street by 7:00 p.m. on June 5th. Graduates will be escorted down Main Street by their Parents/Guardians for one big last hooray as a class. Please come show you support to our graduates.