Reimagining Greatness - Monday Meeting A zoom invitation has been sent to those parents that signed up for the meeting tonight. If you do not receive the invite, please email me and I will resend it.
djaminet@sanfordschools.org
I am looking forward to hearing your thoughts this evening. See you all soon. Dena Jaminet

Elementary Parents: Your child should be coming home with this document today. Please sign and return to school on or before Monday. Thanks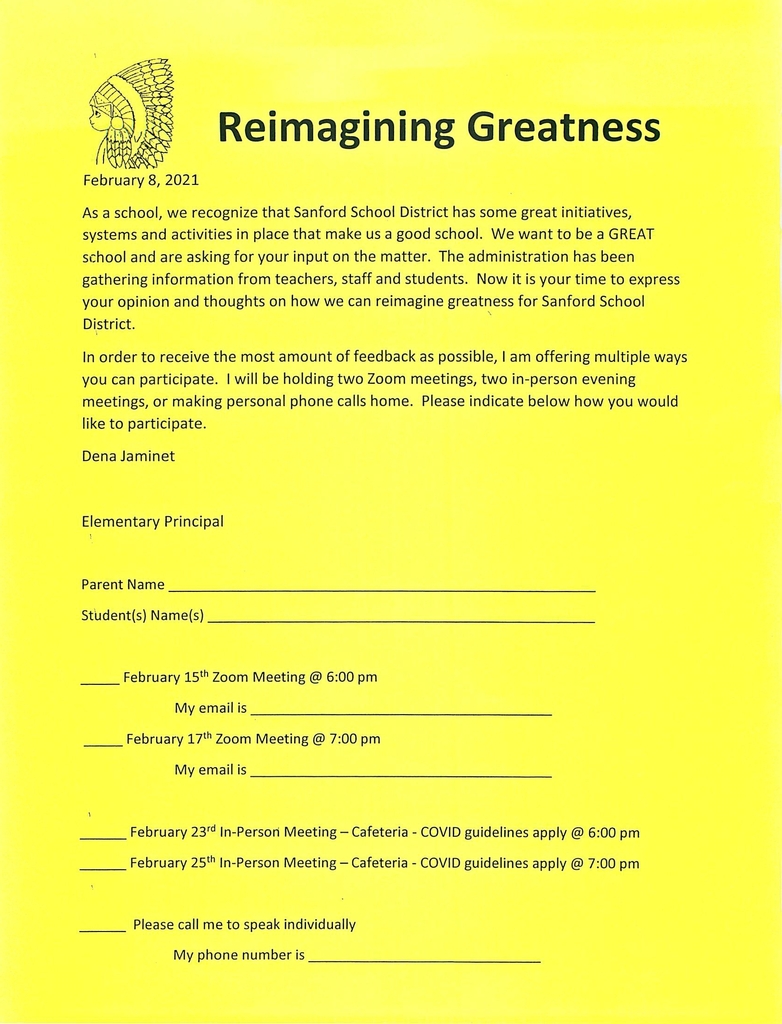 There are only Varsity games tonight. You can watch tonight's game vs. Sangre via live feed on YouTube at the following link:
https://www.youtube.com/watch?v=U6YrJFnqPuE
Or go to YouTube and search for Sanford Events and look for our mascot.

If you want to advertise/donate checks can be made out to Sanford Athletics, and dropped off at the front office.

Fans: We wanted to offer the opportunity to advertise your business as we stream the basketball games for the rest of high school and junior high basketball seasons. We are also doing this to offset the loss that would normally come in from admission prices. Prices are: Green Member $200 Black Member $150 White Member $75 If you want to run an ad email the name of your business and what you want us to read for your advertisement to
clarsen@sanfordschools.org
. If you do not want to advertise your business and just want to wish the kids look luck, or share a certain message you can do that as well. All donations are greatly appreciated and will be put into the Athletic Budget. Your ad will start running this Tuesday during the Sangre games. Your ad will be played during the J.V. Varsity and Junior High Games. Each level will have a set amount of times your ad will be played. It would be great if you would share this opportunity with any business, folks, or family members you know or are associated with that would like to donate to Sanford Athletics so please share with any and all. Thank You. GO INDIANS! Cole Larsen Sanford Athletic Director
clarsen@sanfordschools.org
719-274-5167

Attention Sanford Elementary Parents: If you have not already received one, you will be getting another Emergency Remote Learning Packet today. Please remember to keep these in a safe place in case we have another day in which we need to engage in remote learning. We do not have any days left in the calendar to allocate to snow days, so if we use the day as a remote learning day, we will not have to make it up. Please support your child in completing these packets if we have a remote learning day. Thanks. Dena Jaminet Elementary Principal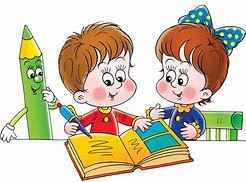 2021 Basketball Schedules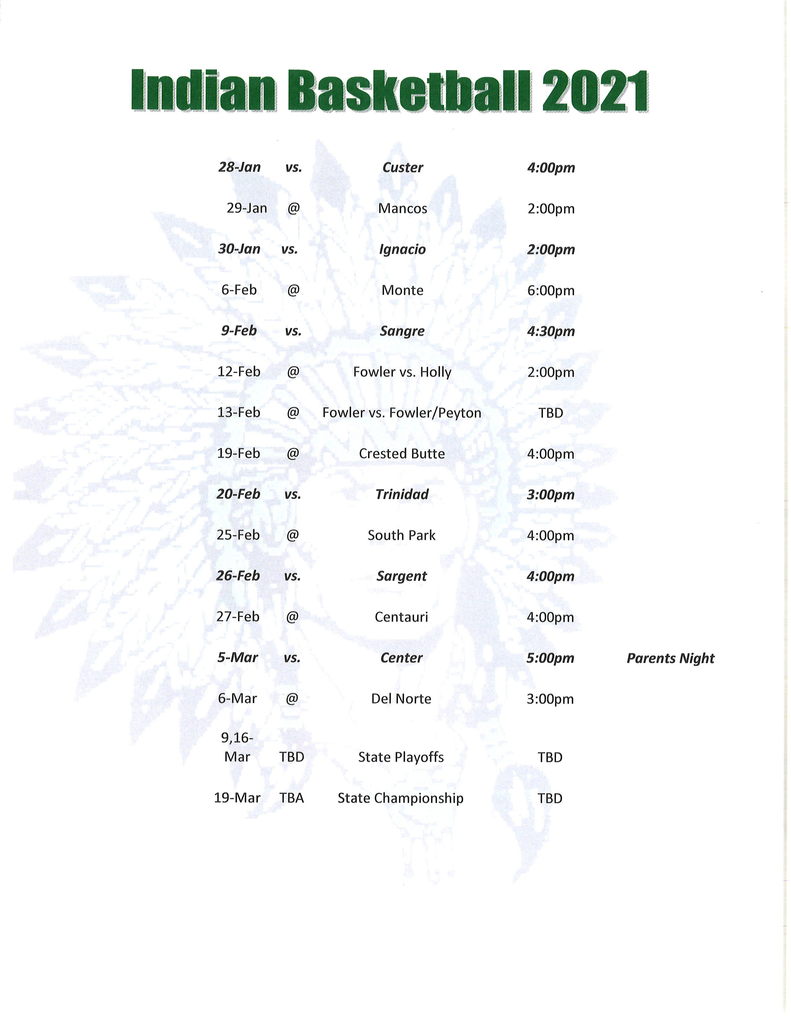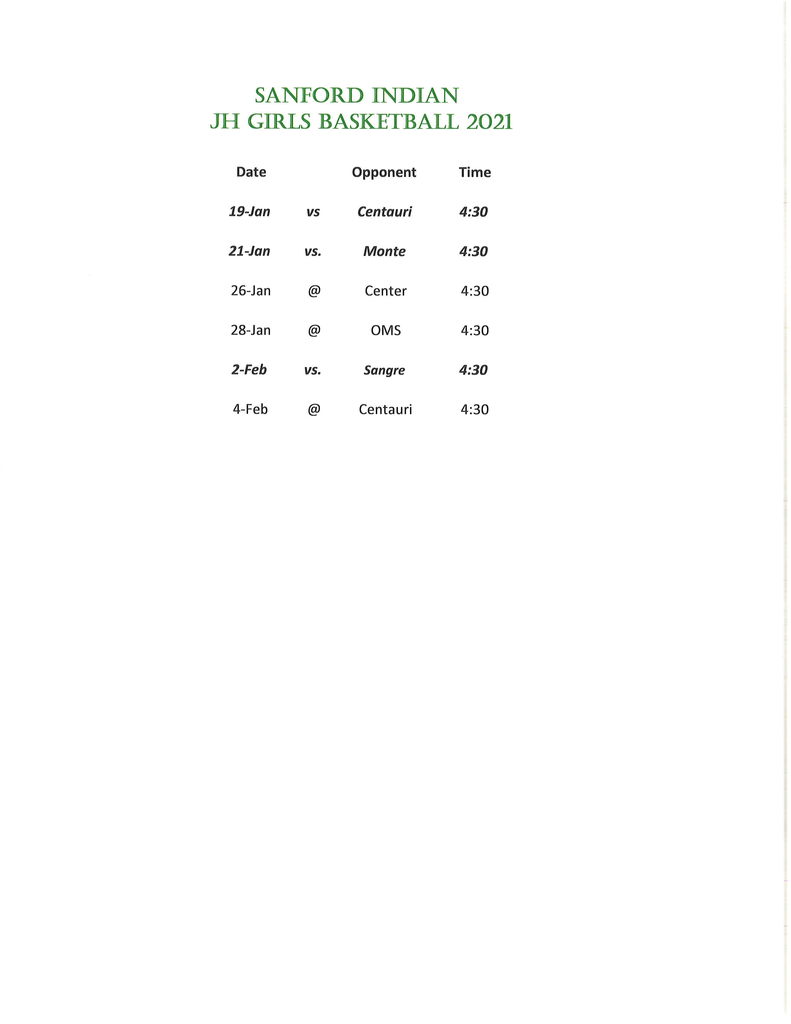 Merry Christmas Sanford! The Christmas store elves are kindly asking that you please save any gently used gift bags that can be donated to the store for next year. Also, if you are clearing out the old over the holidays and have any items you would like to donate, we would gladly take them off your hands. Pick-up is available. Just call 719-298-8786 or 719-850-3554. Thank you.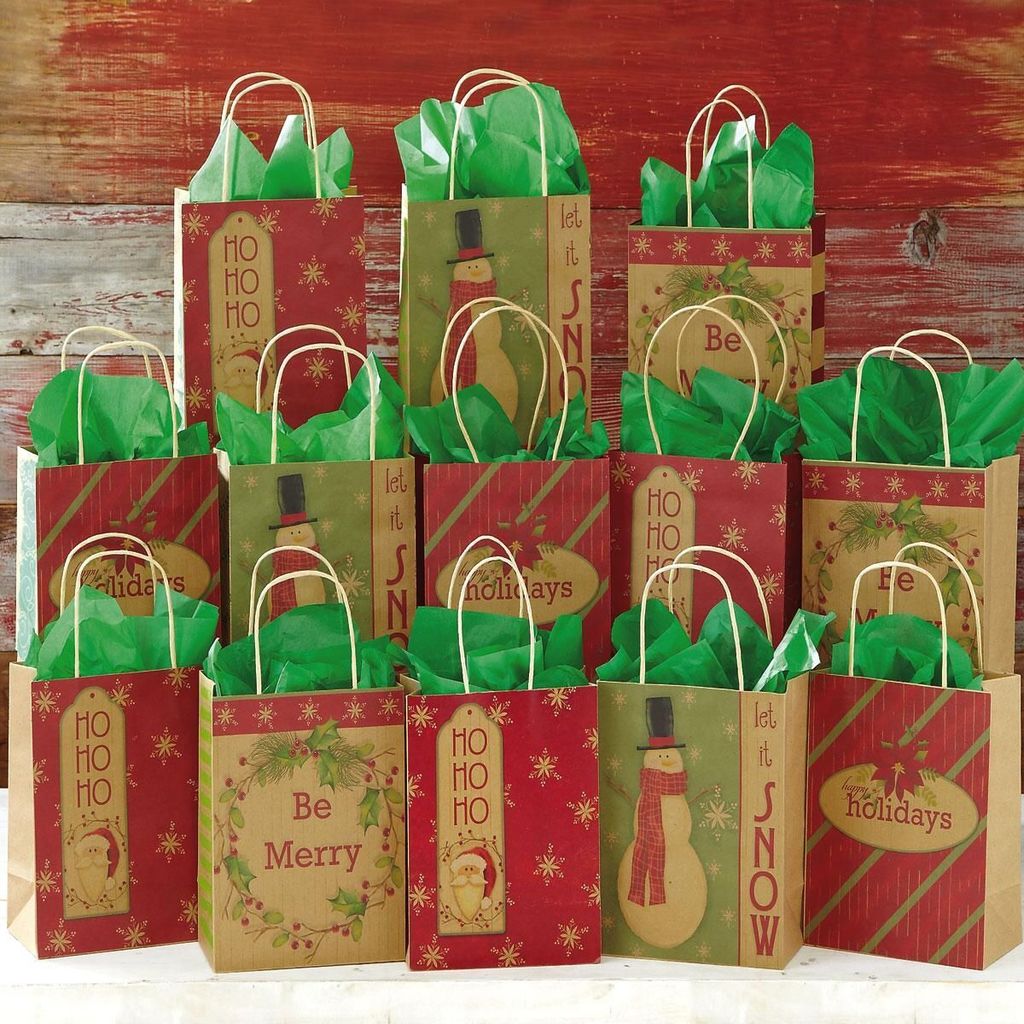 Elementary Christmas Spirit Week Thursday - Ugly Sweater

Elementary Christmas Spirit Week Tuesday - New Year's Eve Attire Dress to Impress!

Christmas Spirit Week Monday - Dress as a Christmas Character (Grinch, Elf, Snowman)
Parents of current 8th-11th graders, Final reminder for tonight's parent meeting for the Washington D.C. and Mt. Vernon school trip! All travelers are eligible for a $300 Early-bird Scholarship by enrolling tonight. Please consider joining us via Live Stream at 6:00 PM if you have any interest at all! To join the meeting, simply click this link:
https://vimeo.com/473205083/9658d7ca34
If you haven't already, RSVP here:
https://forms.gle/8GagAtBfVLJe8XQb6
Don't miss out! Kortney Jarvies
Thursday December 3, 6pm @ CSU-Pueblo On to State! Indian nation, we wish we all could be at the big game. Thank you all for your support through this historic football season. We are proud of the way the boys have represented their families, school and S-town as they have made this historic run to the title game. Indian Nation has some fond memories of big games in Pueblo, Lets go make one more! Truly our coaches and players have been ALL IN! Thanks boys we're proud of you! Here we go Sanford...here we go! Below is how you can catch the title game. • 8-Man State Championship on the NFHS Network o If you watch on the NFHS Network be sure to select Sanford as your school—the school will get a kick back. Thanks. • 8-Man State Championship Live Stream on 965
https://chsaanow.com/2020-12-03/live-coverage-the-6-man-and-8-man-state-football-championship-games/
• 96.5FM 2020 CHSAA Football Souvenirs can be ordered from Kukulski Brothers: • kukulskibrothers.com 602-386-3460
Hello Parents, Due to COVID the 2021 Washington DC Trip has been postponed until May of 2022. This means more students are welcome to join. Students and parents will have the opportunity to see the Holocaust Museum, Arlington National Guards, Memorial tours, Museums, tour the U.S. Capital building and so much more. Payments start now to help with big bulk payments. All food, transportation, and hotels will be paid for. The trip is 5 nights and 5 days with travel. If you would like more information please join a virtual meeting Tuesday, December 8th at 6:00 pm. Link vimeo.com/473205083/9658d7ca34. To digitally RSVP click here.

Attention 7-12 parents and students choosing remote learning for the week of November 30-December 3. Students 7-12 choosing remote learning will login at 8:00 am into google classroom for links and more information. Classes will be running on our NORMAL bell schedule . Please see class times below; JH/HS Bell Schedule Period 1- 8:00-9:05 Period 2- 9:10-10:15 Period 3- 10:20-11:25 Period 4- 11:30-12:30 LUNCH- 12:30-12:55 Period 5- 12:55-1:55 Period 6- 2:00-2:55 Period 7- 3:00-4:00
How to catch the big game. With spectator capacity being limited we hope that you will tune in to listen/watch the big game. 95.3 FM KYDN will have play-by-play on 95.3. The game will be streamed live on the links below. Go Indians! Sanford @ Merino Saturday 1pm NFHS Network KYDN Live Stream-- click on the "Listen Live" button.

Don't forget it's Business Up Top, Party on the Bottom dress up day. Let's see your serious and silly sides.

Parents/Guardians, We thank you for your continued support throughout 7-12 remote instruction. The following information may be helpful in keeping your child engaged in the learning process. • The school day consists of a structured daily schedule of learning tasks, which will include synchronous learning (teacher-led lessons with the whole class) and asynchronous learning (independent or small group learning). Our remote instruction schedule is: 8:00 First Period 9:00 Second Period 10:00 Third Period 11:00 Fourth Period 12:00 Lunch 1:00 Fifth Period 2:00 Sixth Period 3:00 Seventh Period • Students will have daily live interaction with teachers and peers for instruction, progress monitoring and maintaining a connection to the school community. Daily live interaction will happen using Zoom and/or desmos (math). • Each teacher is using Google Classroom to host Zoom meetings, post student learning expectations, and classroom assignments. • Student attendance and participation is required and will be graded daily. To earn attendance/participation points students must: 1. Be on time to class 2. Have his or her camera on throughout the period 3. Be visible on camera throughout the period 4. Have his or her first name and last initial shown in Zoom • Students will receive A-F grades for attendance, participation, and on-time completion of assignments.

Sanford School Community, due to a COVID-19 positive case at our high school, grades 7-12 will move to remote learning through November 20, 2020. Grades 7-12 will return to in-person instruction Monday, November 30, after Thanksgiving Break. Please keep your children home away from other students through November 20th, as it is likely there are additional COVID-19 cases.